Like I always say, I get the offers, then I pass them on. That's all I do. It's not complicated. People can look at it however they want, but it is what it is. One thing is for sure with me and my website, I get really good offers and discounts, and I pass them on to you. I get several of them every day and I try to sort them out a put up the best ones.
Now that we're in the "holiday season", I'm getting tons of them. I don't put all of them up because I haven't developed a way in which to do so that is to my liking. I don't want anything to seem clustered or confusing. 
This latest one came in tonight from CheapoAir. Take a gander if you like.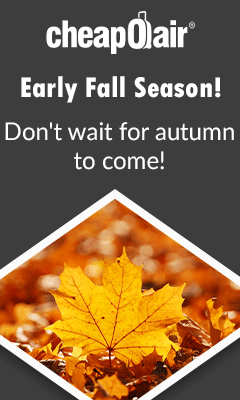 I'm always posting different deals so make sure you're checking out the website consistently. You should probably go ahead and bookmark it. Go ahead, I"ll wait… Oh no you didn't? Oh yes you will!